How to Sell Your Vehicle in UAE from Abroad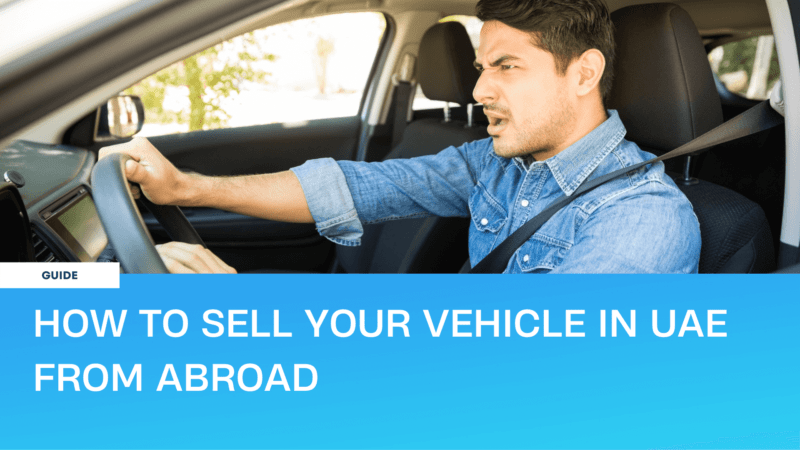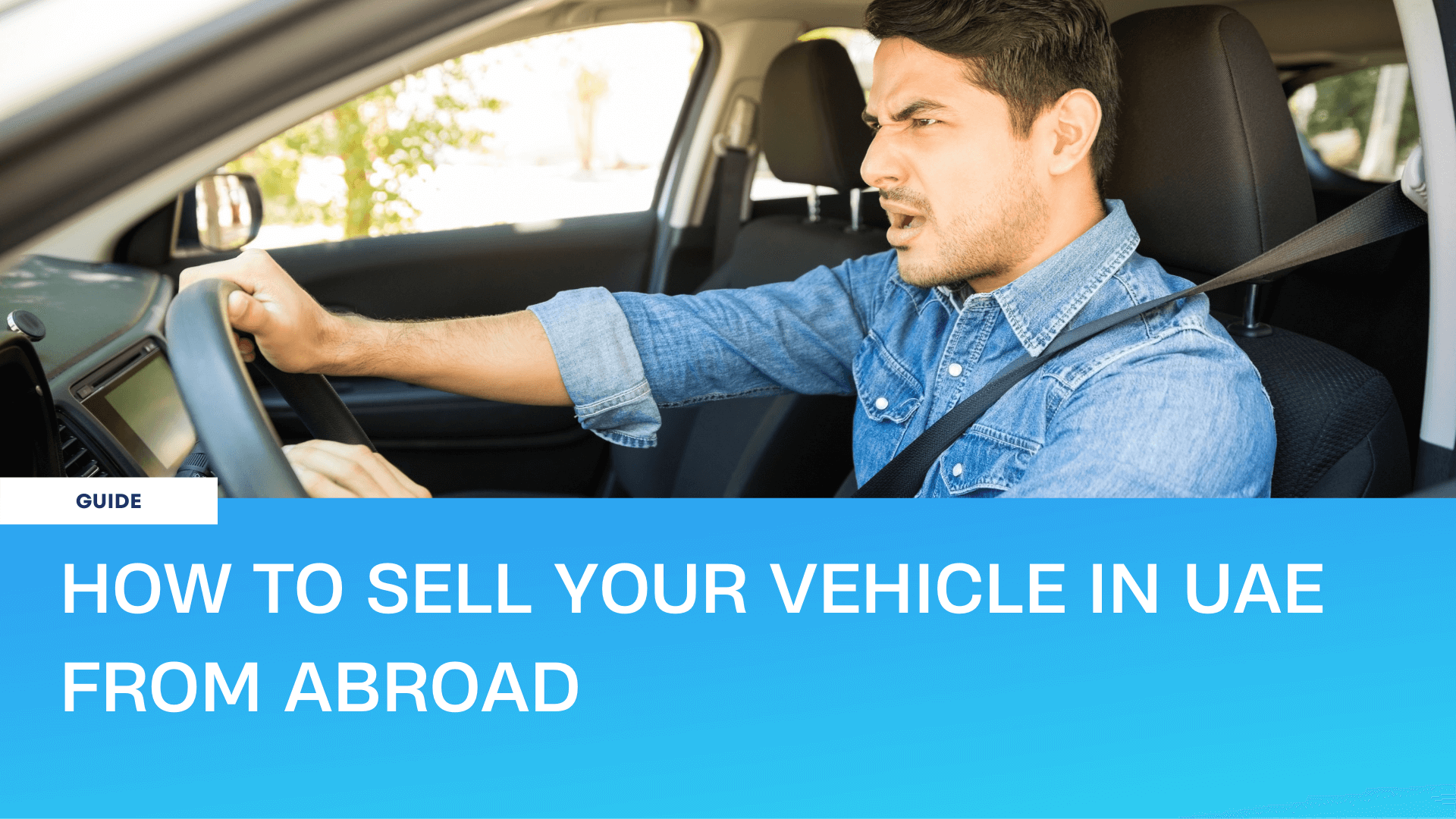 It is often a case that you relocated to your home or another country without being able to sell or export your vehicle in the United Arab Emirates (UAE). You might have thought that selling a vehicle can be done easily even when you are out of the country. Then you realize that you either need to come back to do the transfer or send an official Power of Attorney (POA) in someone's name (a friend or a colleague) who can then transfer the vehicle into the buyer's name. When you are outside the UAE and have no time to travel, what you need to do first is to find a reliable person whom you can appoint as your agent and issue a POA in his or her name.
1.Power of Attorney
If you have already granted a POA in the UAE before relocating, that's great. However, if you haven't done it, then you need to make a legalized POA from abroad. The process of making a Power of Attorney for UAE from overseas seem a bit more complicated task in comparison to when you do it within the UAE, but it is absolutely doable.
There are two ways you can Issue your POA for vehicle transactions from abroad to be used in the UAE.  The quick and easy way is POA Online Notarization. This new service by Dubai Courts called smart electronic notarization service or e-notary allows people to notarize certain documents including Power of Attorney from anywhere without going to the notary public offices in the UAE.
Here is how this process works:
To get your POA notarized from the abroad. You need to submit the POA to Dubai Courts for e-notarization. Application for eNotary service is filed through Dubai Courts Web Portal. The application process involves creating an account on the portal, submission of required documents and verification via video call and/or OTP. Once you submitted the application, it will be subject to review by the online Notary Public. Once your POA is approved by the Notary, an electronic POA shall be sent to the principal's email. An electronic POA has a digital signature and digital notary seal, through which a document can be verified.
How POA.ae can help you with this process:
Place your order online through our Pricing page by selecting the right plan.
We will collect the required information from you by email and send you the draft of your POA for your review.
Once the POA is approved by you, we will send you the final POA by email.
We will then assist you with the electronic or online notarization, subject to the plan you purchased.
After the e-notarization, you will receive your electronic POA to your email. POA will be valid and legal to use.
That's how easy is to Issue a Power of Attorney in the UAE from outside.
The second step is the most traditional way of Issuing a power of attorney. Learn more about this process step by step below.
Step 1: Get it drafted by a professional
Make sure your POA is drafted by a professional that clearly and precisely conveys your situation. For instance, you may want your agent to export your vehicle to your home country without being able to sell or transfer it to any other party. It is also important to appoint as your agent someone you trust or a professional firm that offer POA services. Also, well prepared POA minimizes the risk of POA rejection from third parties and/or government entities at a later stage and will save your time and money.
Step 2: Notarization by a notary or a lawyer
After your POA has been prepared, you will need to sign it in the presence of a notary or a solicitor, depending on the laws of the country you are signing it. For instance, if you are signing your POA in the United Kingdom, you may sign it in the presence of a solicitor who is also qualified to be a notary public. In return, a notary or a solicitor will too sign the POA and state that the document was "witnessed by" him or her and the appropriate, usually embossed seal is placed.
Step 3: Legalization by a foreign affairs department
This step is important since you intend to use the POA in the UAE, i.e. outside of the country where you signed it. Legalization is a process whereby a government body (usually, a ministry of foreign affairs) confirms that the signature of a solicitor or notary on the POA is valid and should be recognized in a foreign country, in our case – the UAE. The name of the government body in charge of legalizations varies from country to country. In the United Kingdom – it is the Foreign and Commonwealth Office (FCO), in Canada – it is the Global Affairs Canada (aka the Department of Foreign Affairs, Trade and Development), in the United States – it is U.S. Department of State Authentication Office, in India – it is the Ministry of External Affairs, and in Australia – it is the Department of Foreign Affairs and Trade.
Step 5: Attestation by the UAE Embassy or Consulate
Once your POA is legalized by the ministry of foreign affairs or equivalent authority, then you can contact the UAE Embassy or Consulate in the country where you signed your POA or nearest country to get it attested. It is worth getting in touch with the Embassy/Consulate directly to seek advice on the procedure as this also varies from country to country. The UAE Embassy/Consulate will also advise you regarding the fees and timeframes for this process. This is the last step you are required to take in the country of issuance of your POA.
Step 6: Legalization in the UAE
The second last step is to legalize your POA by the Ministry of Foreign Affairs (MOFA) in the UAE. To complete this step, you do not necessarily have to be personally present in the UAE and anyone can do it on your behalf.
Step 7: Arabic translation
The final step is translating your POA into Arabic by a certified legal translator, if the POA was done in a foreign language. Arabic is an official language of the UAE and government authorities accept official documents in Arabic. It is important to note that the translator must be licensed by the UAE Ministry of Justice. When you order a POA from us, we can also offer you translation into Arabic. POA.ae partners with some of the best and trusted translators in the region.
2.Vehicle Transfer
Once the POA is legalized and in place, your agent can now represent you during the transfer process. Here are the steps to follow to sell and transfer your vehicle into the buyer's name.
Step 1: Clearance of Mortgage
As a seller you need to clear any outstanding finance (mortgage/loan) you have availed from a bank to purchase your vehicle. Once the loan is paid off, your bank informs the Road and Transport Authority (RTA) to update the records and clear the loan from the RTA system. The RTA will send a SMS text message to vehicle owner when the records are updated. This usually takes 24-48 hours.
Step 2: Vehicle Test
Your vehicle can be transferred to a new owner only after it passes a vehicle test of the RTA. After checking the vehicle, the RTA issues a test certificate and stamps either "Passed" or "Failed". If the result is "Failed", the test certificate contains the list of problems that need to be fixed in the vehicle. To avoid possible last-minute surprises, it is best for you or your agent to test your vehicle at one of the RTA vehicle test centres ahead of advertising.
Step 3: Clearance of Fines
Make sure to check and clear possible fines on your vehicle, as all fines have to be cleared before transferring your vehicle to a buyer. You can check and pay vehicle fines through the Dubai Police website or Mobile App. Or fines can also be paid at the time of transfer at the RTA centre.
Step 4: Insurance
Once the vehicle test is done successfully and all fines are cleared, a buyer can now proceed to get an insurance for the vehicle. If an existing insurance policy has 7 months or more remaining, the policy can be transferred, provided the new owner meets the required criteria of the insurance company. Nevertheless, not all insurance companies allow to transfer insurance from a seller to a buyer. You may also want to cancel your insurance and request for a refund, if a policy has at least 7 months remaining.
Step 4: Transfer
The final step is to transfer the ownership of the vehicle. You, as a seller, or your authorized agent with a valid POA for Vehicle Sale, should be present at the point of transfer with valid identification document (e.g. UAE driving licence or Emirates ID) plus a valid test certificate. On the other side, the buyer needs the following:
• Valid car insurance
• Passport with a UAE Residence Visa + 1 copy
• Emirates ID + 1 copy
• UAE driving licence + 1 copy
After verifying the documents, the RTA representative asks the parties to sign a sale and purchase agreement and the buyer pays the purchase price to the seller and the transfer fees to the RTA. Once it is done, the RTA representative issues a new vehicle ownership card and a new plate number.
POA.ae is the first dedicated Power of Attorney firm in the United Arab Emirates and offers full range of related services, including POA drafting, translation and POA representation services. To order your POA today, please place an online order or get in touch with us on +971 55 886 4969 or +971 4 35 93773 or email at contact@poa.ae.
Disclaimer: The content on this page is for general information purposes only and does not constitute as legal advice nor should it be used as a basis for any specific action or decision. Nothing on this page is to be considered as creating a lawyer-client relationship or as rendering of legal advice for any specific matter. Users of this website are advised to seek specific legal advice by contacting members of POA.ae (or their own legal counsel) regarding any specific legal issues. 
Help your friends and family members get answers to their questions by sharing: