How Does Property Conveyancing Work In Dubai?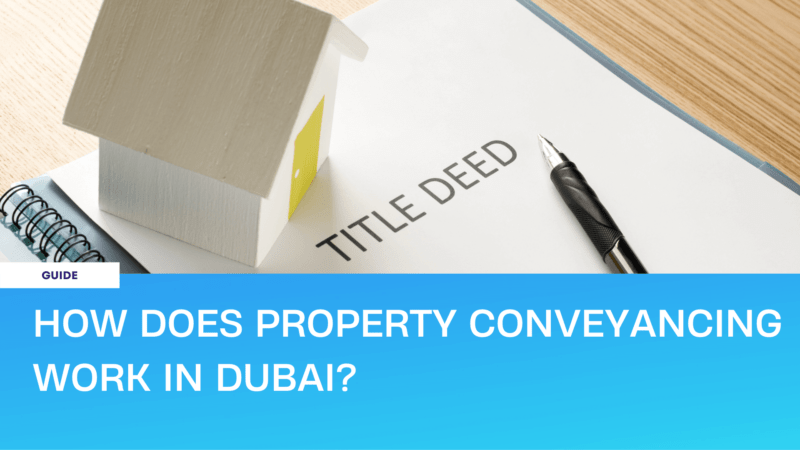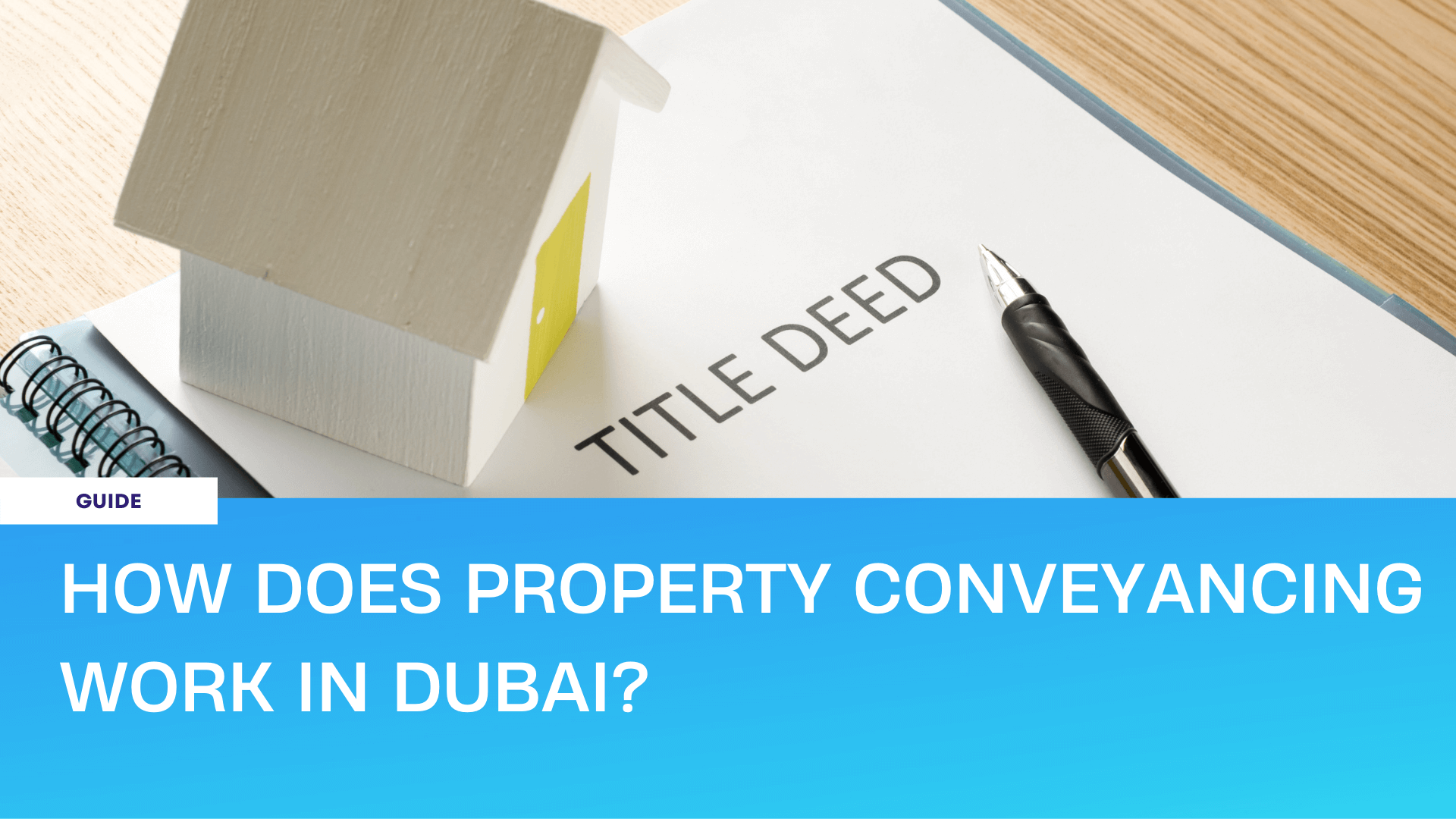 Buying or selling a property especially in a foreign country is not an easy process, there are always critical and time-consuming tasks for both buyer and seller, which, if not handled correctly, might jeopardize your property transfer. There are many steps involved when you buy or sell a property in Dubai. You need a well-versed team to deal with developers, lenders, and government bodies to handle the necessary requirements, procedures, policies, and processes.
Want to free yourself from stress associated with a property transfer? This article is written to explain how we can make it simpler and stress-free for you.
What is conveyancing?
Conveyancing is the legal process of transferring of property from one owner to another. When you buy a property, the previous owner signs it over to you and you become the new owner, or vice versa if you're the one selling. There are normally two stages to this – the first being the exchange of contracts, the point at which the terms of the deal are fixed, and the second being the completion, where the legal title passes.
The legalities involved is a complex task including various financial and administrative duties, hence, finding the right conveyancer will help you avoid potential risks and pitfalls.
Getting a conveyancing lawyer in the UAE is not compulsory but imperative to understand the property market and get proper advice throughout the purchase process.
 What does a conveyancer do?
A conveyancer oversees the settlement process.
Most home buyers and sellers do not realize the full amount of documentation, detail, and work that goes into legally transferring a property to a new owner.
Whether you are buying or selling a property, a conveyancer can:
Prepare, clarify and review legal documents – e.g. contract of sale and purchase (SPA) or memorandum of understanding (MOU), power of attorney (POA)
Research the property and its certificate of title – check for easements, type of title and any other information that needs addressing
Calculate various fees and taxes in relation to property purchase
Deal with your bank or financial institution if mortgage is involved
Deal with a developer or facilities management company to secure NOC for the property transfer
Act as your attorney-in-fact using a Power of Attorney and represent your interest before government institutions, or buyer or seller or their agent
Settle the property transfer in a secure way
 Freehold or leasehold?
When buying an existing property, you will need to be clear on whether your prospective home is freehold or leasehold. Freehold property is where you own the building and the land on which the building stands and leasehold is essentially a long-term lease, usually for 99 years. The UAE Government has laws to protect the purchasers from contractual breaches but regardless of the regulatory protections in place, it is essential to conduct due diligence which a conveyancing lawyer can do.
How does conveyancing work?
Conveyancing starts once seller and buyer agree the basic terms and are interested in a property transfer. Usually, the seller's representative or real estate agent will draft a contract using the format of Dubai Land Department (DLD) outlining the conditions of sale, the terms of the deal, transfer date, and any particulars that are outstanding. During this part of the process, it is important to do a due diligence on the property in question and the parties' right to buy and sell property.
Both parties will then negotiate the terms of the draft contract, usually through real estate brokers. Once both sides are happy that the contract works for them, the agreement gets finalised and signed by the buyer and seller.
If you are applying for a mortgage, this needs to mentioned in the contract and the contract should be subject to securing a mortgage successfully from the bank. Also, this may affect the transfer date of the property if the mortgage approval gets delayed.
Once the contract is signed and exchanged between the parties, that means both parties commit to the sale. Backing out can result in financial losses, as you'll have to recompense the other party. Usually, a buyer gives a security deposit equal to 10% of the purchase price to the seller or their agent to secure the deal. The deposit can be retained by a seller if a buyer backs out. Or vice versa, a seller can be liable to pay compensation to a buyer in case of non-compliance by the seller.
On the date of completion or transfer, both the seller and the buyer needs to be present at the Registration Trustee Office of DLD. If any of the parties cannot attend personally, then they can issue a Power of Attorney to a lawyer or conveyancer to represent them at the time of the transfer. The buyer needs to arrange payments by way of manager checks and hand over to the trustee officer. Once the property is transferred the trustee officer gives the manager checks to the seller or its representative, and the new title deed and keys are released to the buyer.
Having a conveyancer in place would help you avoid any frauds and ensure the legal transfer is completed efficiently and timely.
How long does conveyancing take in Dubai?
From the start of the process through to completion, property transfer process in Dubai can take between 3-10 weeks, depending on various factors. There are many aspects that affect how long it takes such:
Property is mortgaged
The buyer is arranging a mortgage
There are outstanding payments to a developer or facilities management
Parties are outside the country and there is no POA
Buyer or seller does not have bank account to issue or receive manager check
Issues are found during the inspection stages
There's not much you can do to personally speed the process up, but having all the necessary documents in place, responding quickly to your representative, and having a mortgage pre-approval ready can save a valuable amount of time. If you are outside the UAE and can not travel personally, you can also appoint your representative to buy or sell a property on your behalf.
Anywhere in the world, conveyancing is a legal minefield especially if you are an expat living in Dubai, the language and cultural barriers can lead to couple of misunderstandings and can make the whole process stressful or worst. Choosing the right conveyancer can make or break your experience. Starting a new life in the UAE should not be complicated by keeping in touch with right people and dealing with right service providers.
Disclaimer: The content on this page is for general information purposes only and does not constitute as legal advice nor should it be used as a basis for any specific action or decision. Nothing on this page is to be considered as creating a lawyer-client relationship or as rendering of legal advice or legal services for any specific matter. Users of this website are advised to seek specific legal advice from their lawyer or a legal counsel regarding any specific legal issues.