UAE Golden Visa Guide 2022: Benefits and Who Can Apply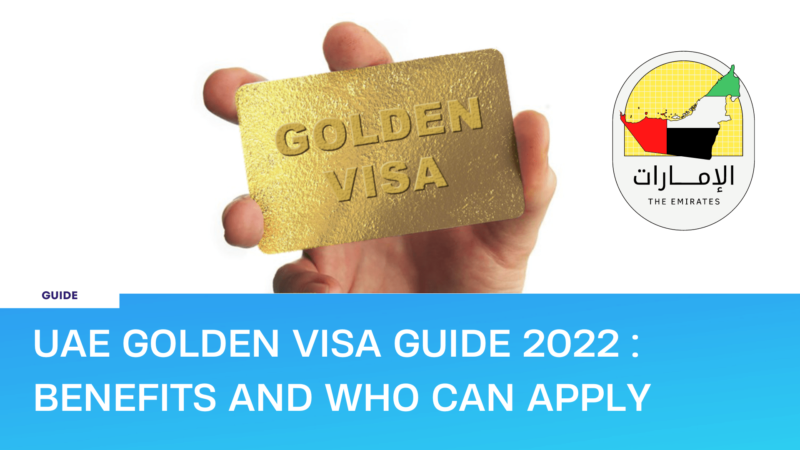 UAE Golden Visa Guide
 The UAE Golden Visa was introduced in 2019 to attract and retain professionals, investors, entrepreneurs, and outstanding students from all over the world. Since its introduction, there have been some changes in the requirements for getting the golden visa. For instance, investors initially it was required to invest a minimum of AED 10 million, however, this is reduced now to AED 2 million. Moreover, property investors can also be eligible for long-term visas based on the value of the property.
What are the benefits?
The Golden Visa holders enjoy some exclusive benefits, for instance:
Golden Visa is valid for 10 years, which is renewable for the same period
there is no requirement for a sponsor, as the Golden Visa holders act as his/her sponsor
being outside the UAE for more than six months does not invalidate the visa
the golden visa holders can sponsor their family members, including spouses and children regardless of their ages
the golden visa holders can sponsor an unlimited number of domestic workers (maids, drivers, nannies)
family members of the golden visa holders can stay in the UAE until the end of their permit duration if the primary holder of the Golden visa passes away.
Who is eligible for the Golden Visa?
Based on the amendments in immigration relevant laws in 2022, the 10-year UAE Golden Visa is given to:
Investors
Real estate investors
Entrepreneurs
Exceptional talents
Scientists
Professionals
Outstanding students and graduates
Humanitarian workers
Frontline heroes
Each category has specific conditions. Let's go through them.
Investors
Investors can obtain a Golden visa in the UAE if they fulfill one of the following conditions:
Have a deposit of no less than AED 2,000,000 (two million UAE dirhams) with an investment fund licensed in the UAE; or
Owns a company with a capital of no less than AED 2,000,000 (two million UAE dirhams); or
Owns shares in a company with a value of no less than AED 2,000,000 (two million UAE dirhams); or
Owns or partners in a company that pays tax with a value of no less than AED 250,000 (two hundred fifty thousand dirhams) per year.
Real Estate Investors
Real estate investors can obtain a Golden visa in the UAE if they fulfill one of the following conditions:
purchase one or more properties (including off-plan properties from approved developers) worth no less than AED 2,000,000 (two million UAE dirhams); or
purchase a property with a loan from specific local banks; or
Entrepreneurs
Entrepreneurs can obtain a Golden Visa if they fulfill one of the following conditions:
owns or a partner in a start-up registered as a small and medium enterprise (SME) in the UAE, and the company generates annual revenues of not less than AED 1,000,000 (one million UAE dirhams);
obtain approval for a start-up idea from an official business incubator or the Ministry of Economy or other competent local authorities;
must have founded an entrepreneurial project that was sold for a total amount of not less than AED 7,000,000 (seven million UAE dirhams).
Executive Directors
Executive Directors, General Managers,s or Chairman of the Board can qualify for UAE Golden Visa if a person meets the following conditions:
Must have a bachelor's degree (or equivalent) or higher degree
Minimum of 5 years of work experience as Executive Director General Manager or Chairman of the Board in the same company
Minimum salary of AED 50,000 per month for the last 6 months
Documents:
NOC letter from the company/sponsor mentioning it has no objection for the applicant to getting the Golden Visa and confirming that the service period is not less than 5 years as Executive Directors or General Manager or Chairman of the Board
A salary certificate confirming a minimum AED 50,000 monthly salary
Valid official employment contract with a UAE company with the same position and the salary that is stated in the salary certificate
University degree certificate (which must be attested)
Bank statements for the last 6 months from the account in which the salaries were received
Professionals
Professionals or highly-skilled workers with high educational qualifications and professional experience in all disciplines, including medicine, sciences and engineering, information technology, business and administration, education, law, culture, and social sciences can get the Golden Visa if they:
have a valid employment contract in the UAE
are classified in the first or second occupational level as per the classification of the Ministry of Human Resources and Emiratisation
hold a Bachelor's degree or equivalent
have a monthly salary of not less than AED 30,000.
Exceptional talents
Inventors, innovators, and exceptional talents in vital fields such as culture, art, sports, and digital technology can obtain a Golden visa. The visa requires a recommendation or approval from a federal or local government entity.
Scientists
Scientists and researchers with high achievements in their field can get the Golden visa based on a recommendation from the Emirates Scientists Council. A candidate should have a Ph.D. or a Master's degree in one of the disciplines of engineering, technology, life sciences, and natural sciences from the best universities in the world, as well as substantial research achievements.
Outstanding students and graduates
High-performing students in the UAE's secondary schools and outstanding graduates from the UAE's universities and the best 100 universities worldwide can get the Golden Visa. Criteria include academic performance/cumulative average, year of graduation, and university classification.
Humanitarian pioneers
Humanitarian pioneers such as the following can get the Golden Visa:
distinguished members of international and regional organizations;
outstanding members of associations of public benefit;
recipients of recognition awards in humanitarian fields;
distinguished volunteers and sponsors of humanitarian efforts.
Frontline heroes 
Frontline workers with extraordinary efforts in crises, such as the COVID-19 pandemic can also get the Golden visa.
At POA.ae, we offer an initial free consultation to determine your eligibility for the Golden Visa. We guide you through the possible options and requirements and can support you from A to Z to help you get your Golden Visa in UAE hassle-free.  Contact us today to start your golden visa process.
Disclaimer: The content on this page is for general information purposes only and does not constitute legal advice nor should it be used as a basis for any specific action or decision. Nothing on this page is to be considered as creating a lawyer-client relationship or as rendering legal advice or legal services for any specific matter. Users of this website are advised to seek specific legal advice from their lawyer or legal counsel regarding any specific legal issues.