5 Things You Need To Know About Gifting Real Estate In Dubai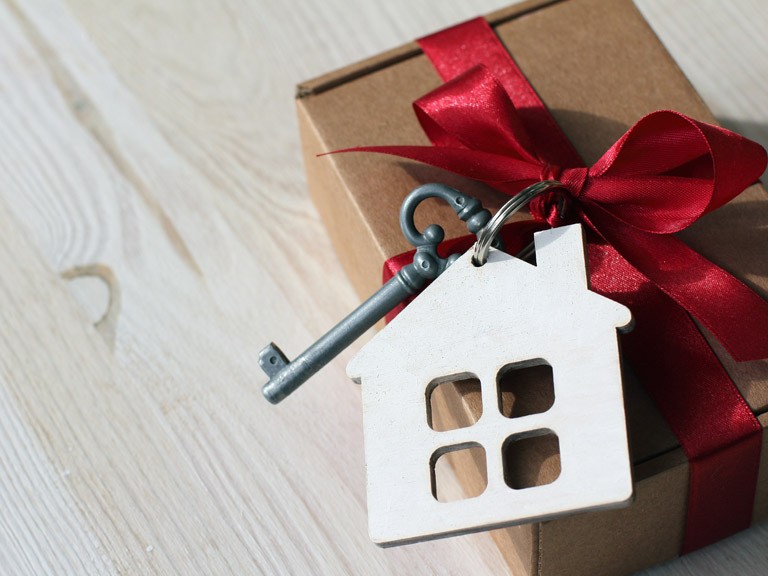 1.Can I Gift My Real Estate In Dubai?
A gift transfer (also known as a "grant transfer", or in Arabic terms a "Hiba transfer") is a voluntary transfer of a real estate property to another person.
The person who grants/gifts the property is referred to as a "donor" while the person who receives gifted real estate is referred to as a "donee" or a "beneficiary".
Gifting real estate in Dubai is permitted with certain restrictions and the government fees are significantly less for transferring a property as a gift as opposed to a sale transfer. Nevertheless, you can not opt for a gift transfer in all cases due to certain restrictions, which we will discuss later.
The main difference of gifting from a sale-and-purchase transaction is that there is no requirement of consideration (i.e. payment or compensation) and less transfer fee in a gift transfer.
2.Who Can I Gift My Real Estate To?
You can only gift your property in Dubai to a "first degree relative". Under the local regulations, the "first degree relatives" include parents, children, and husband and wife. It is worth noting that relationships between siblings, and between stepchildren and stepparents, do not qualify as "first degree relatives" for the purposes of a gift transfer in Dubai. In other words, you can transfer your  property as a gift only to your parents, spouse, or your children, while transfer to other family members shall be considered as a normal sale transfer.
Moreover, you can transfer your property to a company provided such company belongs to you or to your first-degree relatives. There are types of companies (i.e. foreign companies) that can not own real estate properties in Dubai under current regulations, therefore, make sure to select the right legal entity for ownership of your properties.
3.What Is The Difference Between Gifting Vs. Selling?
The main difference between the gift transfer and the sale transfer is that the gift transfer incurs a reduced transfer fee of 0.125% of the deemed value of the property, whereas in the sale transfer the standard 4% transfer fee is applied, based on the current value of the property being gifted or sold. Once again, even if you are gifting your real estate in reality, let's say, to your brother (who is not a first-degree relative under the regulations for this matter), you can not register such transactions as a gift thus can not avail the reduced transfer fee.
4.What Are The Requirements For Property Gifting?
The required documents for property gifting in Dubai vary depending on whom you are going to grant your property to and the type of the property.
Primarily, you need to have the original title deed to prove that the property in question does indeed belong to you. Bear in mind that an off-plan and mortgaged units cannot be gifted.
Moreover, you will need to provide the authorities with a proof of "first degree relationship" between the donor and the beneficiary of the property. For example, if a property is being gifted from parents to a child, a birth certificate is required. In a husband-wife relationship, it is required to provide a marriage certificate and in some cases the letter from the Dubai Courts which confirms that the pair are still in spouse relationship. It is important to note that any birth certificate and/or marriage certificate issued outside of the UAE has to be legalized and translated into Arabic.
If the donor and or the beneficiary is a company or a legal entity, constitutional documents of such company would also be required to establish the ultimate owners and the first degree relationship.
During the process, various approvals and no objection letters would be required from concerned parties such as a developer, facilities management company and concerned real estate authorities.
5.Why Real Estate Gifting Is Important?
First of all, a big advantage of a gift transfer as opposed to a sale transfer is that you save money on transfer fees as discussed above.
The second big advantage is that gifting can be used as an estate planning vehicle. For instance, if you own a property in Dubai or any other Emirate of the UAE and wish to control who it passes on to, one of the solutions is to gift it during your lifetime. Gifting process consumes significantly less time and costs you less in legal fees than the estate devolution process if something unfortunate happens. So, by gifting your property during your lifetime, you will be rest assured that you left your property to the person you wished.
Moreover, if you are a Muslim, you can not make a Will to distribute your assets as per your wishes that may contradict Sharia laws. Therefore, one of the optimal solutions to pass your property to the person(s) you wish is to gift your property during your life-time.
Alternatively, you can transfer your property as a gift to your UAE based holding company or a foundation that provides better protection and flexibility in terms of estate planning.
Thus property gifting is one of the optimal ways to help your family avoid costly and lengthy estate devolution process or possible inheritance battles.
Disclaimer: The content on this page is for general information purposes only and does not constitute as legal advice nor should it be used as a basis for any specific action or decision. Nothing on this page is to be considered as creating a lawyer-client relationship or as rendering of legal advice for any specific matter. Users of this website are advised to seek specific legal advice from their own legal counsel regarding any specific legal issues.